Transit Standards contains more than 30 transit agency graphics standards manuals from around the world, as well as dozens of articles, examples, and case studies on branding & identity, customer experience & wayfinding, and digital & social media, compiled by Stewart Mader.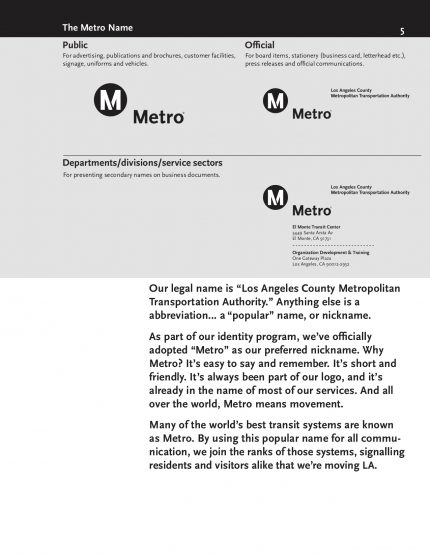 Brand & Graphics Standards
📄 PDF
Branding & Identity
Customer Experience & Wayfinding
Digital & Social Media
Examples
Bay Area Rapid Transit (BART)
BART takes customers behind the scenes with a visual of maintenance work, as well as a plug for employment opportunities.
Go behind the scenes to see how welders are helping rebuild BART. This age-old craft is important for modern-day infrastructure to increase safety & reliability, and to give you a smoother ride. We're also hiring for welders — find out what it takes. https://t.co/f1RG5jl9aU pic.twitter.com/DLhM5HVx3u

— SFBART (@SFBART) April 11, 2018
BART engages customers in decision-making about what information to provide in platform-level display cases.
This is something staff was just talking about yesterday. Would riders rather have large printed maps instead of the printed schedule? We have a few display cases on the platform level and historically we've put the printed schedule. We are thinking of swapping them out. https://t.co/H5oZseBljV

— SFBART (@SFBART) April 12, 2018
BART includes maps showing alternate service options near BART stations during a service outage caused by a track fire.
6:25am update: SFFD has wrapped up their work and we need to do track inspection. We have major delays and train congestion will cause residual delays. If you want to avoid BART here are bus and ferry options near our stations. pic.twitter.com/AM25toNB7V

— SFBART (@SFBART) March 20, 2018
Chicago Transit Authority (CTA)
CTA provides specific guidance on a nearby alternate bus route while service on the L Pink Line is disrupted by a mechanical problem.
Loop-bound Pink Line trains are standing at Western due to a mechanical problem on a train; Consider using 21 Cermak bus as alternative.

— cta (@cta) March 20, 2018
CTA's #YourNewBlue Program, will promoted by Chicago Mayor Rahm Emanuel, encompasses track and station upgrade along the L Blue Line between Grand and O'Hare stations to improve customer experience and reduce travel time.
In all, #YourNewBlue will rehab 14 @cta stations along the O'Hare branch, which when completed will save passengers up to 10 min on a round trip between downtown and O'Hare. https://t.co/lUmkqHAqMa pic.twitter.com/ghnOmp3xrQ

— Mayor Rahm Emanuel (@ChicagosMayor) May 22, 2018
CT Rail – Hartford Line
Hartford Line – Map depicting service on a new rail line connecting New Haven, CT, Hartford, CT, and Springfield, MA shows how Connecticut is developing a transit 'spine' through the center of the state. Bus rapid transit is included as well, and the "one ticket, any train" policy and messaging is an excellent way to ensure a smooth customer experience.
Los Angeles County Metropolitan Transportation Authority (LA Metro)
LA Metro collaborates with Los Angeles Football Club and professional soccer player Latif Blessing to produce an ad showing fans how to trade the car for the train to get to the team's matches.
If you're not sure how to get to Banc of California Stadium yet, here's @LAFC @latif_blessing showing us how it's done. 💫⚽ https://t.co/0oK12Rdwyx pic.twitter.com/9blOenIGuP

— Metro (@metrolosangeles) May 21, 2018
LA Metro encourages its riders who use social media to share its updates with timely information on alternate options during service disruptions.
RED/PURPLE LINE RIDERS: Please consider Metro Alternate Routes to avoid delays. https://t.co/ldGsU19EkG pic.twitter.com/PENHoiH9JJ

— Metro Rider Alerts (@metrolaalerts) May 22, 2018
LA Metro Bike Share uses social media to attract riders with a $2 Tuesdays promotion.
Today is $2 Tuesday! Use promo code 2222 for $2 walk up 30-minute Metro Bike rides. https://t.co/tqss45mLfh pic.twitter.com/eo3WIR6PB4

— Metro Bike (@BikeMetro) May 22, 2018
MetroTransit
MetroTransit gives Minneapolis transit riders clear, useable information on where to board eastbound Green Line trains during a service change caused by a vehicle blocking tracks.
Due to a semi blocking tracks, board eastbound Green Line trains on the westbound tracks at these stations: Prospect Park, Westgate, Raymond.

Please expect delays. — Metro Transit (@MetroTransitMN) April 16, 2018
Midttrafik
Midttrafik, a Danish bus company, borrows from movie trailers to promote its bus services with The Bus, and The Bus: The Sequel.
New Haven Railroad
Herbert Matter's Logo Design Process: "When Herbert Matter got the job to design a new logo for the New Haven Railroad he literally went through hundreds of sketches before arriving at the final logo. Herbert Matter(c) Official Site – HerbertMatter.org."
New York City Transit
New York City Subway shares information on planned service changes via social media using a visual layout that matches the design and information architecture of posters displayed in stations.
Tomorrow from 9:30am-3:30pm, we're doing emergency track work affecting the F and G lines. Shuttle buses will replace F trains between Coney Island Stillwell Av and Church Av. Please take D, N or Q trains for direct service between Coney Island and Manhattan. pic.twitter.com/pj4d7jBaOH

— NYCT Subway (@NYCTSubway) May 16, 2018
New York City Subway uses photos to show customers what was accomplished during weekend work on subway lines.
Check out photos from our #WeekendWork replacing track ties along the Lenox Av #2 and #3 line https://t.co/1mbgX6xzrN pic.twitter.com/9h69W1E1bh

— NYCT Subway (@NYCTSubway) February 8, 2015
Port Authority Trans-Hudson (PATH)
PATH reminds riders about its alternate service guide, which highlights alternative options riders can use if service is disrupted on the subway connecting New York & New Jersey.
Affected by PATH delay/suspension? See Guide to Alternate Transportation Services. https://t.co/TSo9lMYCMT [82]

— PATH Alerts (@PATHAlerts) April 10, 2018
PATH uses photos to show construction progress on new tracks and platforms at the World Trade Center station.
PATH Crew installs rail on track 3 at platform B pic.twitter.com/TCp4Z5vXIc

— WTCProgress (@WTCProgress) January 28, 2015
Regional Transportation District (RTD)
RTD invites Denver-region residents to participate in a telephone town hall to learn about operations, get project status updates, and ask questions of the agency's board of directors.
You can participate in a telephone town hall with the RTD Board of Directors to learn about current operations & status of projects and programs. Listen in & ask questions. Participate via phone or website. Find your district, register for events & more at https://t.co/LmtDtB3G85 pic.twitter.com/G9pnwqyiXu

— RTD (@RideRTD) March 19, 2018
Sound Transit
Seattle's Sound Transit reminds customers to remove backpacks with a message from the backpack's perspective that avoids coming across with an admonishing tone.
Reminder as you head out the door – taking off your backpacks on crowded trains and buses makes more room for everybody. #WednesdayWisdom pic.twitter.com/FuqNEiqnd5

— Sound Transit – 🚆 🚈 🚍 (@SoundTransit) May 23, 2018
Toronto Transit Commission (TTC)
TTC uses simple, customer-friendly language to help riders use alternate transit options during a service disruption.
GO Protocol is in effect. Have TTC proof-of-payment and ride GO to your destination in Toronto. https://t.co/XR0PtKtXcl

— Brad Ross (@bradTTC) April 16, 2018
Transport for London (TfL)
TfL uses icons to ensure messages reach non-native English speakers.
♿⛔ Bond Street Station: No step free access due to lift maintenance.

👾 https://t.co/7L5lD3FFcj 🚦 https://t.co/e2Jd7LVOrc 🚌 https://t.co/IUFwAp8Nv7 — Jubilee line (@jubileeline) March 20, 2018
♿✅Bond Street Station: Step free access restored to the platforms.

— Jubilee line (@jubileeline) March 20, 2018
TfL uses a night-sky themed campaign to advertise new night service on the London Overground.
Where will the London Overground Night Service take you next?

From Friday 23 February, we'll be running to Highbury & Islington, connecting with the Victoria line #NightOvergroundhttps://t.co/vFHPTZesJr pic.twitter.com/5VkaUkhoH0 — Transport for London (@TfL) February 15, 2018
TfL previews The New Tube for London, the next-generation train that will run on the Piccadilly, Bakerloo, Central, and Waterloo & City lines, with an ad that shows the train in action.
TfL promotes access for all by sharing its work with the Alzheimer's Society to educate employees about how to recognize and assist customers who may be suffering from dementia.
We're taking positive steps to become a dementia-friendly organisation aiming to make 5,000 Dementia Friends by 2019. We want to make travel accessible for all our customers. Visit https://t.co/zzcGaT8f8C to become a Dementia Friend #DAW2018 #DementiaFriendlyLondon pic.twitter.com/k2qzHrjMRC

— Transport for London (@TfL) May 23, 2018
TfL's Every Journey Matters campaign outlines the agency's investments in infrastructure, technology, and vehicles to improve access, provide reliable service, and put the customer first.
Västtrafik
Västtrafik, a Swedish transit provider, appeals to people with ads that apply some of the best themes of car commercials to transit: tight shots of a fast drive through stunning natural scenery, closeups of aerodynamic curves, and the allure of a test drive.
If we do not define our brand, others will define it for us. We must be certain about what we stand for and claim it at every touch point. –California Transit Association